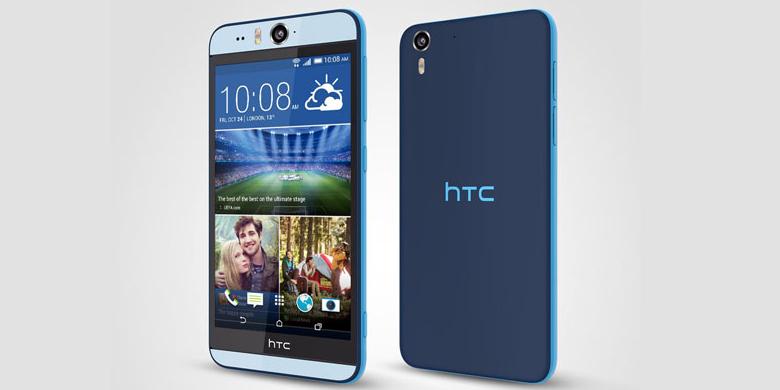 HTC introduces its new smartphone at an event in New York, USA on Wednesday (08/10/2014), which was named HTC Desire Eye. Smartphone is intended for users who like selfie, photographing, or video recording.
Eye Desire is an Android smartphone 5.2 inch sail with two features front and rear cameras that carries a high-resolution camera sensor, 13 megapixels.
With two front and rear cameras that pack a high-resolution sensor, the HTC smartphone attempts to appeal to users who like selfie well as those who love taking pictures and recording Full HD video.
Behind the camera in addition to carrying the 13-megapixel sensor is also equipped with a 28 mm wide-angle lens and wide aperture f / 2.0. The camera can also record Full HD 1080p.
While the front camera has a 13 megapixel sensor, coupled with a 22 mm wide-angle lens and aperture f / 2.2. HTC also features a dual LED flash next to the camera, as well as Full HD video recording capability of 1080p.
Along with the launch of Eye Desire, HTC also introduced software "Eye Experience" that allows users to take pictures with a smartphone that simply stabilizes held, or by saying "Cheese."
Voice commands can also be given to recording video, users simply say a command "action" and the smartphone's camera will start recording video.
"We believe all that today we launch into a new achievement in the evolution of HTC," said CEO Peter Chou KompasTekno as quoted from Cnet, Thursday (10/09/2014).
"This is just the initial stage of the process of reimagining HTC," said Chou.
Eye HTC Desire runs the Android 4.4 operating system KitKat, with support for quad-core CPU of Qualcomm Snapdragon 801, 2.3 GHz, 2 GB RAM, and 16 GB of internal storage.
HTC has not released how much the market price for the Desire Eye. However, this device will be launched in Europe in advance with an estimated price of around 529 Euros (or approximately USD 8 million).
HTC Desire Specs Eye:
Screen: 5.2-inch Full HD 1080p
CPU: Snapdragon Qualcomm® 801, 2.3 GHz, quad-core CPUs
OS: Android 4.4.4 KitKat, HTC Sense 6
Internal storage: 16 GB start
Memory: 2 GB RAM, microSD up to 128 GB
SIM: SIM nano
Connectivity: microUSB port, 3.5mm stereo jack, NFC, Bluetooth 4.0
Rear camera: 13 MP BSI sensor f / 2.0, 28 mm lens, Full HD 1080p videos, Dual LED Flash
Front camera: 13 MP Auto-focus with the zoom, f / 2.2, 22mm lens Full HD 1080p videos, Dual LED Flash
Audio: HTC BoomSound
Battery: 2400 mAh Li-polymer
Talk time: up to 20 hours 3G
Standby time: up to 538 hours 3G
Dimensions: 151.7 x 73.8 x 8.5 mm
Weight: 154 grams