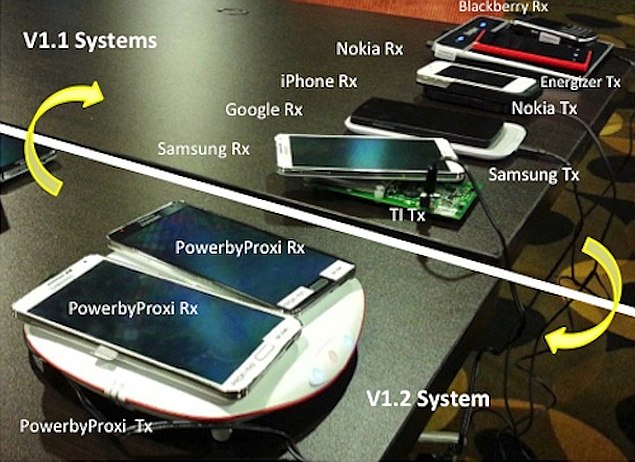 The current implementation is' wireless charging 'on smartphones and tablets based on "induction charging' technology, in which devices must sit (or contact) the loading platform to accept the cost. This will change soon, however, as the standard specification Qi wireless charging, has introduced technology 'charge resonance' new, you can charge the device in a (admittedly very small) away.
Wireless Power Consortium (WPC), a group that defines the specification Qi wireless charging, announced Thursday that it was bringing the "integration of resonant inductive load on existing technology in the specification of Qi."
The Qi v.1.2 specification upgrade to existing WPC Qi specification v1.1. The company said the integration of the charge resonance, the need to place the device in the cargo will be removed and earn commissions from a distance too. He said that by using the prototype specification v.1.2 Qi five associates and showing filling of 45 mm (less than 5 cm) apart. Users will also be able to fill some of the devices that use a single source.
List of members of WPC includes over 200 companies like Foxconn, Haier, HTC, IKEA, LG, Microsoft, Motorola, Nokia, Panasonic, Qualcomm, Royal Philips, Samsung, Samsung Electro-Mechanics, Sony, Toshiba, Verizon Wireless, and ZTE other other. OEMs are already selling products Qi-specced in Africa, Australia, Asia Pacific, Europe, India, North America and South America.
WPC also said that the new standard is backward compatible with the Qi v1.1 specifications, and most older devices running the new v1.2 specification Qi be able to send the payload about 30mm.
"The CMP is committed to advancing the specifications provide the best user experience without sacrifice in the area is very important for consumers and businesses," said Menno Treffers, chairman of WPC. "This means compatibility with products already on the market and maintain high efficiency, even at great distances."
Despite new developments, WPC is also working on allowing the Qi wireless power transfer up to 2,000 watts for kitchen appliances.